Portfolio » Case Studies » Home Insurance Buyers Guide, LLC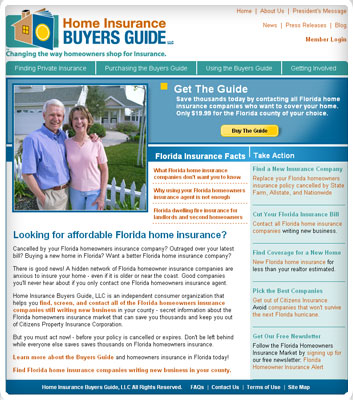 Services Performed
A New Business, a New Website
For any new business, the key to finding customers is to have a website that brings in readers, offers them the information they need and that makes everything easily accessible. This was the challenge with Home Insurance Buyers Guide, LLC.
When Accessible Computing® was approached, the site was nothing but an idea. There were marketable ideas, but no site, no logo- not even a URL. Everything needed to be created from scratch to turn a great idea into a great website.
A Full-Service On-Line Database Subscription Website
The idea for the site was a subscription-based website that would provide an information database to those who purchased a subscription. This entailed a number of e-commerce needs, from accepting credit cards through the site to adding a shopping cart for multiple purchases to making sure that the subscriptions lasted the proper length of time. All of these needs had to be wrapped into one site that was also search engine optimized to bring in plenty of traffic.
Accessible Computing® provided all of this, and took the site to a level above even the dreams of the client. It created a site with its own brand identity. A logo for the site was creates and it was given the branding that a new company needs in order to find its place in the market. It became a site that customers remembered and trusted.
Automation
One of the biggest time savers for any company with a website is automated, self-service capabilities that allow customers to take care of many of their customer service issues by themselves. Accessible Computing® accomplished this by automating the lost password system to allow customers to set their own challenge questions in order to retrieve their own passwords.
Further automation of the site was in the form of autoresponders that sent welcoming emails as well as other communications to every subscriber automatically. This builds loyalty with each customer, and it requires nothing at all from the business owner. This gives the customers a feeling of connectivity with the site while taking up none of the business owner's time that could be better spent elsewhere.
The Impact
Going from a basic idea for a subscription-based site to a fully-realized site with an identity of its own has been a radical change for Home Insurance Buyers Guide, LLC. The site has a professional look and feel, bringing in a high number of customers who trust the site and connect with its brand identity. The average customer spends a long time on the site, which the company credits to its professional look.
The site's success has inspired site owner Michael Letcher to recommend Accessible Computing® for others who have a vision for a new website. "If you have an idea that you've been wanting to pull the trigger on, and haven't quite been able to figure out how to take the next step. A/C is the company you should be reaching out to - with a 1-on-1 consultation with Christian," Letcher said.
Whether you're starting your online business from scratch, your online marketing efforts could use an infusion of power, or you're looking for ways to automate and monetize your online business, Accessible Computing® has proven, customized strategies to help you get the results you want. Simply Request a Free Consultation and learn how you can finally see your idea become reality.